Rabatt & Mehr

Versandkostenfreie Lieferung ab 99,95€ in Deutschland und ab 199,95€ in Österreich!

30 Tage Umtauschgarantie.

Zusätzlich 5% Rabatt ab 500€.

Teamorder?
Hier mehr erfahren

Newsletter
Immer die besten Deals via Email erhalten?
Easton Synergy EQ50 Schlittschuhe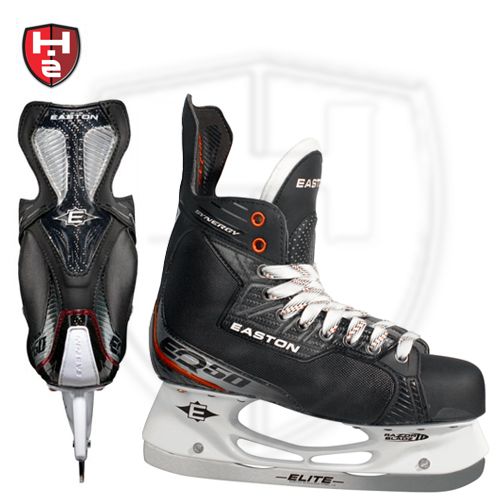 Skate Technology:
HYBRID LAUNCH ZONES - Feel like your skate was designed for your foot alone when thermally-activated Fusion Foam conforms to every curve. This next-generation design is as customizable as ever, working in concert with two other strategic Launch Zones. Our Hybrid Fusion Technology positions composite components in places you need it most to propel your feet up the ice.

HEELING POWER - The integrated EQ50 carbon fiber heel cup is connected to a low-profile composite outsole to support the full torque of a powerful stride.

POWER TO THE TENDON - Engineered for the right balance of flex and support this tendon is strategically positioned to power your game. The EQ50 tendon is lightweight and molded to put your foot in an aggressive position to attack the ice.

HYBRID FUSION TECHNOLOGY - Combines lightweight, fully-moldable quarters with composite reinforcement to enhance fit while optimizing response and performance consistency.

UNI-BODY - Proprietary lasted-skate construction that allows us to make the entire skate a composite structure, all the components supporting each other.

IDEAL FIT - This fit system for Synergy® skates encompasses the foot with thermally activated, anatomical ankle foams and an extremely comfortable felt-based tongue.

HEAT MOLDABLE - Proprietary thermo-set glue formulations allow for enhanced comfort, improved comfort and game ready performance.
ELITE RUNNERS - High end stainless steel design with a power tab in the middle of the blade for enhanced stiffness and energy return.

DRY FLOW - Our unique system which releases moisture and excess heat created during play. Equipment will stay lighter, stiffer and drier game after game.

Features:
Three carbon composite launch zones catapult you forward: side-wing spring, flex tendon and heel anchor
True 360° heat customization with an active Ideal Fit™ heel lock
Pro-molded white felt tongue plus flexible lace-bite protection
Light, stiffcarbon composite outsole with Dry Flow™
Bewerte als erster diesen Artikel!