Rabatt & Mehr

Versandkostenfreie Lieferung ab 99,95€ in Deutschland und ab 199,95€ in Österreich!

30 Tage Umtauschgarantie.

Zusätzlich 5% Rabatt ab 500€.

Teamorder?
Hier mehr erfahren

Newsletter
Immer die besten Deals via Email erhalten?
Warrior Ritual G3 Pro Goalie Schienen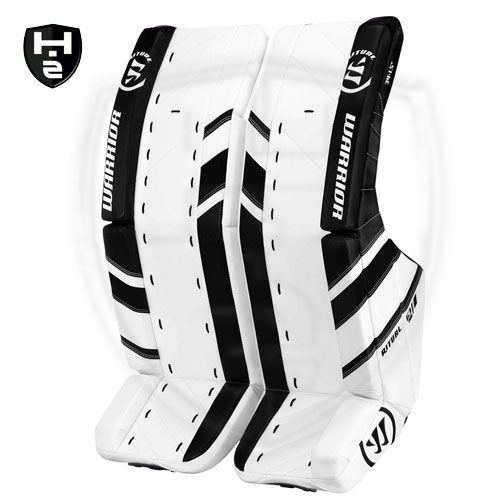 •Active Response Strapping
•Profile Lock
•Knee Drive System

The Warrior Ritual G3 Pro leg pads are designed for performance, through innovation. The most notable characteristic of the Ritual G3s is the weight; at a size of 34+1.5, a single pad weighs just 4.20 lbs. This light weight design is achieved through a solid HD foam core construction and an extensive use of nylon on the back of the pad.The Active Response strapping system decreases attachment time and stress on the goalie's hips, knees and ankles; the Velcro strapping style also gives the goalie better control in the pad, because the strapping can be tightened to any preference and still allow the leg to move stress free. The Sling Wrap knee strap uses a nylon strap and buckle to hold the knee in place, so the goalie has total control of the pad while dropping into the butterfly.Like the Ritual G2, the G3 features the Profile Lock, which allows the goalie to set the pre-curve of the pad to their preference. The Knee Drive System is designed with a solid HD foam attachment to the core of the pad, to increase stability in the butterfly. The knee channel, itself, is very open to fit the included Ritual G3 knee pad.

Size Floor-to-Knee Measurement
32" 47.8 cm - 49.1 cm
33" 49.1 cm - 50.4 cm
34" 50.4 cm - 51.6 cm
35" 51.6 cm - 52.9 cm
36" 52.9 cm - 54.2 cm
37" 54.2 cm - 55.5 cm
38" 55.5 cm +

Bewerte als erster diesen Artikel!